The CAW/Unifor leadership's definition of "democracy" seems to be "listen, applaud, vote yes". Most conventions and council meetings have seen very little debate over issues, or discussion about the best way forward. It is rare for local unions to submit resolutions, especially critical ones. The last auto contracts were the most unpopular ever – featuring drastically lower wages for newly-hired tier 2 workers, with a punishing 10+ year wait for equal pay, and inferior benefits and pensions. Yet there has been little open challenge of this direction at Unifor gatherings.
That is why it is very encouraging to see some challenging resolutions coming from a Unifor local union to the December 1-3 Unifor Ontario Regional Council meeting.
Unifor Local 222, representing GM of Canada workers in Oshawa, and 28 other bargaining units (including CEVA, Logistics in Motion, Durham Region Transit, Lear Seating, Armada Tools) has submitted 4 resolutions, all passed at the membership meeting November 2. A couple of these resolutions are a direct challenge to the Unifor leadership.
No support for anti-worker Liberals
One resolution calls on Unifor to support the NDP in the 2018 provincial elections. The resolution cites several instances of the Ontario Liberal government's anti-worker actions, including moving to privatize Ontario Hydro, failing to deliver on funding for health care and hospitals, and a so-called "modernization" plan for the Ontario Lottery and Gaming Corporation that puts thousands of pensions at risk (including the pensions of Unifor members) and is designed to gut union contracts in the gaming sector. The resolution was submitted before the Liberal government's disgusting back-to-work legislation that attacked college teachers in the province.
Many Unifor members have grown increasingly disgusted by the cozy relationship between Jerry Dias and the Liberal governments of Justin Trudeau and Kathleen Wynne. The pro-Liberal policies are usually disguised by an appeal to vote "ABC" (Anybody But Conservative). That pitch is getting more and more opposition, and the Local 222 resolution will be an opportunity for some REAL debate at the Ontario Council meeting about the need to support working-class politics and not the Bay Street Liberals.
Health Care Trust Corruption
The second important resolution calls on Jerry Dias to remove retired staffers as trustees of the Health Care Trust that provides health care benefits for retired GM and Fiat Chrysler workers. When the Trust was set up, half of the trustees were union staffers, and because they were employed by the union, they did not collect payments from the Trust funds. Over the years, all 5 union-appointed trustees retired but stayed on as trustees, and all began collecting very lucrative payments – over $27,000 a year as a retainer, and almost $800 per meeting (even if they 'attended' the meeting by phone for an hour). They have been collecting these payments even though they get very generous pensions from Unifor. These payments are being taken out of the funds that are supposed to be for retiree health care benefits, and are depleting the funds of our retirees, some of whom get less in pensions than these trustees are getting in fees.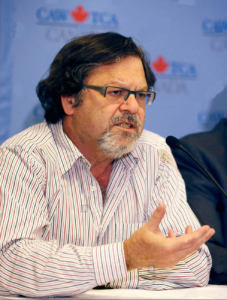 GM retirees have even seen their health care benefits cut by 20% and their co-pays increased by more than the inflation rate because there is not enough money in the fund. Local 222 wrote to Dias in December 2016, almost one year ago, asking him to take action on this. He ignored that request, and several others that were sent. A resolution was sent to the August Unifor Convention, and the leadership arranged for it to be buried. Retiree delegates were told at their conference in September that the issue had been addressed – but it turned out that was not true. How much more pressure will it take before Dias is forced to pull the snouts of some of his cronies out of the trough?
Please urge the delegates from your local union to support these resolutions at the Ontario Council meeting.