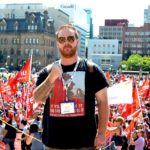 On Labour Day, Cory Weir was interviewed on respected progressive radio talk show The Taylor Report.
Phil Taylor talked to Cory about how class collaboration leads to corruption, how young workers challenged Justin Trudeau's anti-worker policies by turning their backs on him, and how activists from Cory's local union, Unifor Local 222 in Oshawa, sponsored a resolution calling for Palestinian self-determination and support for BDS, and had it adopted by Unifor's Canadian Council.
Cory was also able to talk about how the Unifor Solidarity Network is establishing itself as a place for Unifor activists to exchange and discuss critical ideas and proposals

for putting Unifor and the labour movement back on the offensive. The Taylor Report airs every Friday from 5 pm to 6 pm (Eastern time) on community radio, CIUT 89.5 fm.