In April, Bombardier senior executives took greed and arrogance to new heights, when they announced they were giving themselves a 50% pay increase.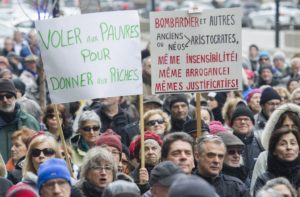 People were outraged, especially in Quebec, where a survey showed 93% agreed the increases should be cancelled.
It is not hard to understand the anger. In 2016 the Quebec Liberal government had handed Bombardier about $1.3 billion – no strings attached. Then, this year, Justin Trudeau handed over federal loans totalling $372 million. Bombardier took all this public money and then announced that they would be eliminating 14,500 workers worldwide.
The five top executives were slated to rake in $43 million Canadian for 2016, up from a paltry $29 million in 2015. Leading the way is CEO Alain Bellemare with a salary of $9.5 million, up over $3 million.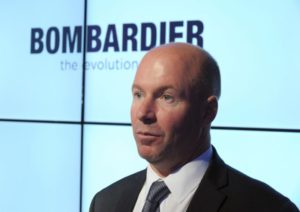 Quebec Solidaire, a socialist party, collected thousands of signatures on a petition calling on the provincial government to renegotiate its deal with Bombardier. The Liberals rejected this out of hand, as well as defeating a motion by the Parti Quebecois asking the Bombardier executives to forego the pay raise. The federal Liberals also defended Bombardier. Justin Trudeau said the federal money was needed to ensure "good long-term jobs" – he must mean good jobs for his friends the execs.
Unifor represents many Bombardier workers – but our leaders were not in the forefront of the protesters. Our leadership was doubly compromised – they had supported Bombardier's demands for public money, and they desperately want to avoid embarrassing the Trudeau government that they have been in bed with.
Unifor should go beyond attacking the greed of the Bombardier executives, and raise the demand for nationalization. Public ownership is the best way to ensure that public investment ensures good jobs and positive social objectives.
We should also be shaming the long list of corporate CEOs that have been enriching themselves, while they impose "austerity" on workers. Here is one more example:
Jochen Tilk – CEO, PotashCorp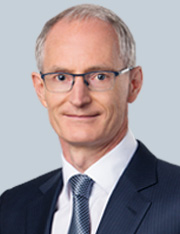 Tilk took a 34% pay increase to $5.2 million last year, then shut down a New Brunswick mine, axing 400 jobs, and laying off 140 workers from another mine in Saskatchewan.